Happy Valentines Day!  Today is special, not just because it is Valentines Day, but it is also my husband's birthday.  Happy Birthday Sweetie!  So what does Valentines Day mean to you?  For me it is a time to reflect on those people that I love most.  Yes, I know, we should not have to have a day set aside to make us do that, but none the less it does.  How many people out there just wish they had someone to love or loved them back?  When it's all said and done, isn't that what the majority of people want, to be LOVED!  One thing we know for sure is money cannot buy you love!  Love is what makes us want to get out of bed in the morning, love is what makes us smile, love is caring and sharing, LOVE JUST IS!  So, if you have not told your special someones that you Love them today, don't let the day get away without letting them know you love them.  We are not promised tomorrow so take advantage of today!
With all of that said, I wanted to include this photo I took just today at my Panama City Photography Studio of my Dad standing next to an old window frame that he labored hours on for one of my clients.  The photos were taken of the Kradel Family right after Thanksgiving last year.  Susan saw one of my window frames, here at my studio, when she came in for her proofing and feel in love with it!  She choose her favorite 6 photos from the session and my Dad fixed up this frame for her photos.  She will display it on an easel at her home and will be an heirloom to pass on to her children one day.
Thank you Dad for all you do, you were my first Valentine and I'm still a Daddy's Girl…..at 44,

.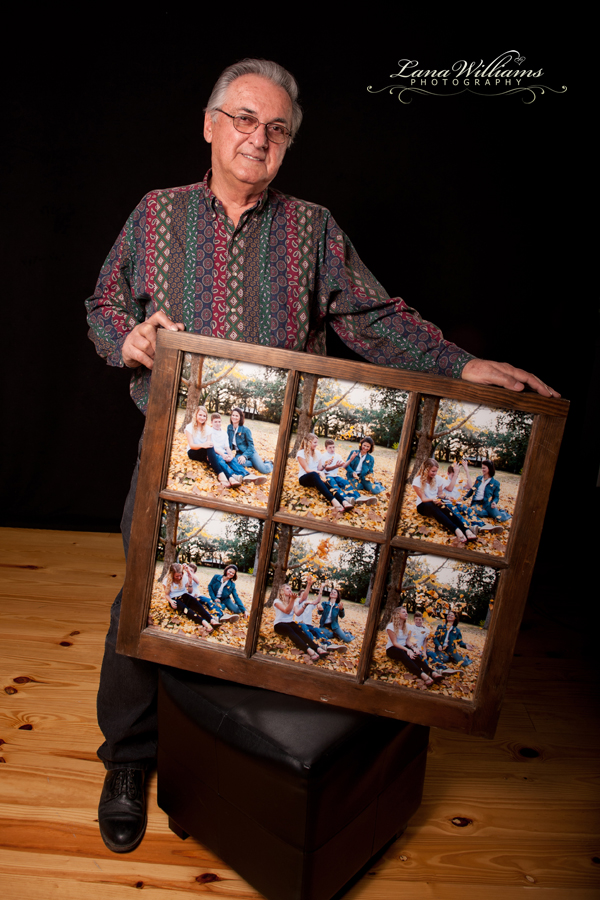 Panama City Photography – by Lana Williams
If you would "love" to have your families photos in an antique window frame similar to this, give me a call today at my Panama City Photography Studio to talk about a Lifestyle Photography Session.  (850) 215-7555